October 31 – November 1, 2014
Workshop with Jessica Backhaus
A workshop dedicated to finding your own style of visual poetry through photography.
Finding Visual Poetry in Daily Life is an intensive 2-day workshop, which is intended for those interested in developing a cohesive body of work with a distinct visual voice. It is designed to aid those who wish to observe, consider, and respond to the world around them through the lens of a camera– creating work that, while specific to the story at hand, is also universal. This workshop will investigate concepts and strategies in shaping a body of work that is powerful, well edited and meaningfully sequenced. Students will enhance their vision and style while delving deeper into the emotions, layers, and nuances of their images.
The students will be asked to bring a photographic project, whether new or old, to be critiqued, developed and expanded. If you have not yet created a project, please bring a series of images that you would like to turn into a cohesive body of work. During this workshop participants will be guided in discovering the full potential of a photographic project through editing, group critiques and discussions and inspirational materials.
The first day, Jessica will introduce her own approach and present some of her own work. Then a discussion and critique of each participant's current project will follow with some recommendations for how to bring their project to the next level. On the second day, during the first part Jessica will make a presentation of her own inspirations. Then another round of critique and discussion will follow. The art of creating exhibitions and photography books will also be mentioned and explored.
By the end of the workshop, students will have been guided in realizing the potential forms of photographic expression and in finding a voice that is specific to their vision. The projects discussed during the workshop will be presented to the NYC photo community at the Photo Workshop New York loft space, during our monthly projections. Each participant's project will also be showed on this website.

Dates: from October 31 to November 1, 2014
Place: Berlin, Germany
Duration: 2 days
Participation fee:  €300 (€270 for students that have participated in previous PWNY workshops)
"Early Bird" participation fee: €280 for enrollment prior to September 16, 2014

+ Click here to read more information
– The workshop is open to everyone: students, advanced amateurs or professional photographers, with no age/sex/nationality restrictions. Enrollment is open until the class fills. The maximum number of participants accepted is 12.
– The location of the workshop is the amazing gallery space of Cartel Collective in Berlin.
– The workshop will take place during the European Month of Photography Berlin, a great opportunity to visit the largest German festival for photography while working with Jessica Backhaus!
– Once your application is accepted, an immediate payment is required to reserve your space in the workshop. All payment information will be sent directly through email.
– The fee of the workshop does not include travel or accommodation expenses. PWNY staff is available to help participants with travel and accommodation arrangements.
– We are very proud to have LEICA STORE FIRENZE has one of our partners for this workshop: every student will have the possibility to shoot with the amazing Leica M given to us!
– There are scholarships available for photographers aged 26 or younger,If you are a photographer aged 26 or younger. The application deadline is September 12, 2014. More information about how to apply for the scholarship here.
– Once enrolled, students will be sent a bibliography and links for inspiration, in order to be prepared for class discussions
– Technical equipment (laptop) must be provided by each participant.
– The workshop will be held in English. Italian translation will be available.
– Photo Workshop New York's staff will be present during the workshop.
– The workshop releases a certificate of participation at its end.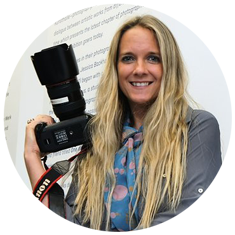 Jessica Backhaus is regarded as one of the most distinguished voices in contemporary photography in Germany today. Her work is exhibited and published internationally and found in important collections, both public and private, such as the Collection of the Museum of Fine Arts, Houston, the Margulies Collection in Miami or the Deutschen Börse Collection in Frankfurt. Born in 1970, she studied photography and visual communication in Paris. She refersto Gisèle Freund as one of her most important teachers and mentors during that time. From 1995 to 2009, Backhaus lived in New York; since 2009 she is living and working in Berlin. To date, she has six publications to her name; Jesus and the Cherries, 2005, What Still Remains, 2008, One Day in November, 2008 and I Wanted to See the World, 2010, ONE DAY- 10 photographers, 2010 and Once, still and forever, 2012, all published by Kehrer Verlag, Heidelberg. Jessica Backhaus is represented by Robert Morat Galerie in Hamburg and Berlin, Robert Klein Gallery in Boston, Projektraum Knut Osper in Cologne, Stieglitz 19 Gallery in Belgium, Wouter van Leeuwen Gallery in Amsterdam and MiCamera in Italy. In  2012 FOAM, Amsterdam produced a short documentary "Wonder  Jessica Backhaus", a film by Willem Aerts.
› MORE INFORMATION ABOUT JESSICA
Subscribe to the workshop
Please, fill all the required fields, select the name of the workshop and upload a selection of 10 images  (JPEG format, 72 ppi, file under 1MB each) that best represent your photography.
>>
IF YOU DO NOT RECEIVE A REPLY FROM US IN 3 DAYS, PLEASE WRITE DIRECTLY TO: admission@photoworkshopnewyork.com