AUGUST 3-12, 2018
AMY TOUCHETTE: FRAMING NEW YORKERS
New York City is a street photographer's paradise. Filled with bustling energy, attitude, and style 24 hours a day, 7 days a week, its residents comprise the most diverse gamut of characters in the world. Photo opportunities abound, but how does one go about distilling all of the commotion into a picture with "punctum" (as Roland Barthes so aptly put it)?
GOALS
This workshop focuses on psychological and practical methodologies participants can use to photograph real life, on the street, that speak to them personally. It covers strategies for harnessing the role that chance plays in street photography and using the power of the law of attraction and cause-and-effect to increase the probability of making compelling pictures.
A street photographer who specializes in portraiture, Amy will also discuss methods for making posed and un-posed (candid) portraits of strangers on the streets of New York City. Participants will learn how to gain a stranger's trust through conversation and wordlessly (using just their presence), how to handle fear and keep safe while making pictures on the street, and how to deal with rejection when interacting with subjects.
Because street photography is a highly personal experience, the workshop is structured to deliver individualized attention to each participant, catering to his or her interests in street photography.
Classes will take place on August 3-5, 7, 9, 11, and 12, allowing participants plenty of free time to explore any part of New York City they choose—from the historical neighborhood of Harlem, the cultural energy of Chinatown, and the fancy set of the Upper East Side in Manhattan, to the Polish community in Greenpoint, Brooklyn, the working class neighborhood of Ridgewood, Queens, and the always picturesque Coney Island, to name just a few.
Held in a centrally located location, as well as at Amy's home in one of the most interesting neighborhoods in Brooklyn—Bed-Stuy—participants will be encouraged to share their images and experiences with the class as they photograph.
GENERAL INFORMATION
WHEN:
From Friday, August 3 to Sunday, August 12, 2018
WHERE:
Brooklyn, New York.
DURATION:
10 days, 7 days of full instruction
SCHEDULE:
10 am – 2 pm daily in class, the rest of the day will be devoted to shooting.
GETTING PREPARED:
Please come to the first session with a collection of digital or printed images of your work on the street.
LANGUAGE:
The language of the workshop is English. Good listening and speaking abilities are strongly recommended, please do not hesitate to contact us for any further information.
EDUCATIONAL MATERIAL:
A bibliography and filmography in order to get prepared for the workshop will be sent to the participant once they are enrolled.
TECHNICAL EQUIPMENT:
photographic equipment and laptop must be provided by each participant. Digital equipment is not obligatory, but it is recommended. Participants who wish to shoot with film will be able to do so, as long as they are aware of the times and costs necessary for the development of the film in laboratory, and of the costs relative to the scanning and digitizing of negatives. The staff will help participants with a list of laboratories.
AFTER THE WORKSHOP:
the workshop releases a certificate of participation at its end; each participant's project will be shown on a personal page of this website after the workshop.
PARTICIPANTS
The workshop is open to everyone: advanced amateurs or professional photographers, with no age/sex/nationality restrictions, are welcome.
The maximum number of participants accepted is 12.
AMY TOUCHETTE
"Amy Touchette is a master of street photography in the busiest of all concrete jungles, New York City."—BuzzFeed
Born in in 1970, Amy Touchette is a photographer based in Brooklyn, New York, who explores themes of social connectedness through street portraiture. Trained at the International Center of Photography, she began her artistic career as a writer and painter, earning a BA in Literature and Studio Art and an MA in Literature. Her first monograph, Shoot the Arrow: A Portrait of The World Famous *BOB*, was published by Un-Gyve Press. Her photographs have been published in The New York Times, the New York Observer, and BUST magazine, and have exhibited in MoMA-Moscow, Russia, Leica Gallery in Warsaw, Poland, and the Hamburg Triennial of Photography in Germany. Amy also works as a freelance photography writer for publications such as PDN, PDNedu, Rangefinder, and Emerging Photographer magazines, and writes an ongoing series about street photography for the tutorial website Envato Tuts+. She is represented by ClampArt in New York City.
See amytouchette.com and her Instagram feed @amy_touchette for more information.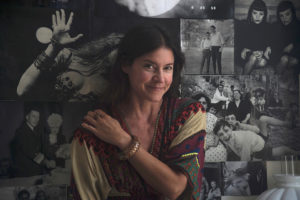 HOW TO ENROLL
To enroll in the workshop, please send an email to admission@photoworkshopnewyork.com including in your request the following information:
first and last name
email address you want us to use for contacting you
mobile phone number
We will get back with all the information needed to complete your enrollment. Please, note that in order to confirm your participation to the workshop, an advanced payment is required.
PARTICIPATION FEE
EARLY BIRD: € 640
For enrollment prior to April 20, 2018.
REGULAR FEE: € 830
The fee does not include accommodation, travel costs or other expenses. Once enrollment is confirmed, PWNY staff will be available to help students find convenient accommodation or flight solutions.
GOT QUESTIONS?
Feel free to contact us for any doubt about the workshop, logistic, enrollment and so on. We're happy to help!
info@photoworkshopnewyork.com
+39 328 3383634