WORKSHOP WITH RICHARD RENALDI
©all images: Richard Renaldi.
PORTRAIT / ENVIRONMENTAL PORTRAIT / PERSONAL VISION
URBAN LANDSCAPE / EDITING /  LONG TERM PROJECT
This workshop focuses on building a series of images around New York City and its inhabitants.
There is a strong emphasis on engaging with and making photographic portraits of subjects and locations that are unfamiliar.
We will cover the construction of engaging portraits, the figure/ground relationship, the use of creative perspectives and the decisive acuity required for spontaneous portraiture.
The workshop's main objective is to provide students with a technical and conceptual fluency that they may apply within their own practice.
We will begin with a discussion of students' portfolios, during which each student will receive personalized feedback and exercises for improvement. We will study and discuss the precedent of successful portrait and place photographers, deconstructing varied examples to further their own work.
Students are encouraged to break through the boundaries between themselves and their subjects as they work on their own project over the course of this intensive one week workshop.
WHAT TO BRING: During this 7-day workshop, participants will be guided in the conception and realization of a personal photo project. Please come to the first session with a collection of digital or printed images of your work and some ideas for a project you will pursue during the week. After that, mornings will be group sessions devoted to reviewing and critiquing the images you shot the day before. In the afternoons, you will head into the city to further develop your project. A bibliography and filmography in order to get prepared for the workshop will be sent to the participant once they are enrolled.
GUEST SPEAKERS: As the week progresses, we will invite some notable New York photographers and professionals of the field as special guests, to present and discuss their work to the class.
AFTER THE WORKSHOP: The projects realized during the workshop will be edited in a collective multimedia piece. Each participant's project will be shown on this website after the workshop.
WHEN:
 from Monday July 10 to Sunday July 16, 2017
WHERE: Pratt Institute, Brooklyn, New York
DURATION: 7 days (mornings in class / afternoons of shooting)
PARTICIPATION FEE:
✔ Regular fee: €1.140 (including accommodation for 8 nights)
Participation fee includes accommodation in double rooms (same sex rooms with shared bathroom in the corridor) for 8 nights inside the beautiful campus of Pratt Institute in Brooklyn. The workshop will be held at the campus facilities as well, so that sleeping at Pratt is very comfortable. If you don't need accommodation, you can pay for the workshop participation fee only (ask for the quote). The fee does not include travel costs or other expenses. Once enrollment is confirmed, PWNY staff will be available to help students find convenient flight fares.
In order to confirm your participation to the workshop, an advanced payment is required. We will send all the information via e-mail after you fill the form at the bottom of this page.
✔ The workshop is open to everyone: students, advanced amateurs or professional photographers, with no age/sex/nationality restrictions, are welcome. Enrollment is open until each class fills.
The maximum number of participants accepted is 12.
✔ The workshop is reserved to Spazio Labo'|Centro di fotografia's 2017 members. The 2017 membership fee of 15€ can be submitted at the time of registration to the workshop.
✔ If you are a photographer under 26 years old, you can win a scholarship to participate in this workshop: the application deadline is March 31, 2017. More information about how to apply for the scholarship here.
✔ The workshop releases a certificate of participation at its end.
+ More info
✔ The language of the workshop is English. Good listening and speaking abilities are strongly recommended, please do not hesitate to contact us for any further information.
✔ Spazio Labo' | Centro di fotografia's staff will be present during the workshop.
✔ Technical equipment (camera, extra accessories and laptop) must be provided by each participant. Digital equipment is not obligatory, but it is recommended. Participants who wish to shoot with film will be able to do so, as long as they are aware of the times and costs necessary for the development of the film in laboratory, and of the costs relative to the scanning and digitizing of negatives. The staff will help participants with a list of laboratories.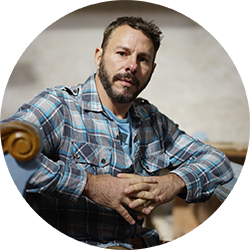 Richard Renaldi was born in Chicago in 1968. He received his BFA in photography from New York University in 1990. Exhibitions of his photographs have been mounted in galleries and museums throughout the United States, Asia, and Europe. In 2006 Renaldi's first monograph, Figure and Ground, was published by the Aperture Foundation. His second monograph, Fall River Boys, was released in 2009 by Charles Lane Press. Renaldi's most recent monograph Touching Strangers, was released by the Aperture Foundation in the spring of 2014. In 2015 Richard was named a John Simon Guggenheim Memorial Foundation Fellow in Photography.
To enroll in the workshop, please send an email to
admission@photoworkshopnewyork.com
with your
first/last name
and
email address
: we will get back with all the information needed to complete your enrollment and payment.
Do not hesitate to ask any questions you may have!