WORKSHOP WITH DAVIDE MONTELEONE
©all images: Davide Monteleone.
PHOTOJOURNALISM / STREET PHOTOGRAPHY / REPORTAGE / EDITING
ENVIRONMENTAL PORTRAIT / PORTRAIT / PERSONAL VISION / LONG TERM PROJECT

Davide Monteleone comes back to New York with PWNY after the amazing workshop done with us back in 2012. From June 19 to June 25 2016, Davide will lead his new class in the exploration of the multiplicity of narratives that the city of New York offers, in order to build, day after day, for each student, a personal and original photo story.  In this workshop Davide will also discuss the possibility in contemporary documentary photographic practice and approaches, taking a deeper look at the long-term project practice in photography. Starting from his personal experience, Davide will give an understanding of different forms of narratives and different ways of structuring work as well as strategy to efficiently produce the project. Particular attention will be give to how ideas are born, the fundamental basis for the beginning of every project in photography.
Since ideas and concepts are crucial to the development of the documentary project, how is it possible to identify themes, motifs and issues that address and questions the societies we live in, on both the local and global level? The ability to choose "a personal distance" is a key factor to succeed in nowadays' market of documentary photography.  To illustrate this, Davide will show his own working method, the evolution of his projects as well as other people's projects. Participants will have the opportunity to discuss the projects they have already produced or are working on and the workshop will act as a starting place for participants to identify and develop a critical perspective on creating original long term projects that can be developed beyond the workshop.
✔ During this 7-day workshop, participants will be guided in the conception and realization of a personal photo project. Please come to the first session with a collection of digital or printed images of your work and some ideas for a project you will pursue during the week. After that, mornings will be group sessions devoted to reviewing and critiquing the images you shot the day before. In the afternoons, you will head into the city to further develop your project.
✔ As the week progresses, we will invite some notable New York photographers and professionals of the field as special guests, to present and discuss their work to the class.

✔ A bibliography and filmography in order to get prepared for the workshop will be sent to the participant once they are enrolled. PWNY staff will be available to help participants to get ready for the workshop.
✔ The projects realized during the workshop will be edited in a collective multimedia piece. Each participant's project will be shown on this website after the workshop.
DOWNLOAD THE COMPLETE WORKSHOP PROGRAM
When:
from Sunday June 19 to Saturday June 25, 2016
Where: Pratt Institute, Brooklyn, New York
Duration: 7 full days
Early Bird participation fee: €850
(for enrollment prior to April 10, 2016)
Participation fee after April 10: €950 with double room accommodation / €715 without accommodation
✔ Participation fee includes accommodation in double room (single room upon request) for 7 nights inside the prestigious campus of Pratt Institute in Brooklyn. If you don't need accommodation, you can pay for the workshop participation fee only. The fee does not include travel or other expenses. Once enrollment is confirmed, PWNY staff will be available to help students find convenient flight fares.
✔ NEWS 2016: if you enroll in Davide Monteleone's workshop, you will be able to attend – at no extra cost – parts of George Georgiou and Vanessa Winship's workshop, which is going to happen the same week. Contact us for more information on this great educational opportunity.
✔ In order to confirm your participation to the workshop, an advance payment is required. We will send all the information via e-mail after you fill the form at the bottom of this page.
+ More info
✔ The workshop is open to everyone: students, advanced amateurs or professional photographers, with no age/sex/nationality restrictions, are welcome. Enrollment is open until each class fills. The maximum number of participants accepted is 12.
✔ The workshop is reserved to Spazio Labo'|Centro di fotografia's 2016 members. The 2016 membership fee of 15€ can be submitted at the time of registration to the workshop.
✔ If you are a photographer under 26 years old, you can win a scholarship to participate in this workshop, offered by Spazio Labo' | Centro di fotografia. The application deadline is March 20, 2016. More information about how to apply for the scholarship here.
✔ The workshop releases a certificate of participation at its end.
✔ The workshop will be held in Italian or English, if the class will have international students. A translator will be present. Please, contact us for any further information on the language of the workshop.
✔ Spazio Labo' | Centro di fotografia's staff will be present during the workshop.
✔ Technical equipment (camera, extra accessories and laptop) must be provided by each participant. Please, let us know if you don't have a laptop. Digital equipment is not obligatory, but it is recommended. Participants who wish to shoot with film will be able to do so, as long as they are aware of the times and costs necessary for the development of the film in laboratory, and of the costs relative to the scanning and digitizing of negatives. The staff will help participants with a list of laboratories.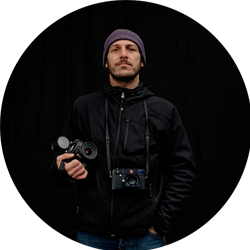 Davide Monteleone
(b. 1974) is an artist and storyteller who uses photography and video as main forms of expression. In 2001 he moved to Moscow as correspondent for the Italian agency "Contrasto" and since 2003 has lived between Italy and Russia pursuing long-term independent projects. He has devoted himself to the study of social issues, conflict, relation between power and individual. Known for his specific interest in the post-soviet area, he published his first book Dusha, Russian Soul in 2007, followed by La Linea Inesistente, in 2009, Red Thistle in 2012 and Spasibo in 2013. His projects have brought him numerous awards, including several World Press Photo prizes, and grants such as the Aftermath Grant, European Publishers Award and Carmignac Photojournalism Award. He regularly contributes for leading publications all over the world. His photography projects have been presented as installations, exhibitions and screenings at festivals and galleries worldwide including the Nobel Peace Center in Oslo, Saatchi Gallery in London, MEP in Paris and Palazzo delle Esposizioni in Rome. He is engaged with educational activities, regularly lecturing at universities and teaching workshops internationally, as well as curating exhibitions and books. Davide has been a member of VII Photo from 2011 to 2016 and he is currently represented by
Kehrer Gallery
in Berlin.
click here for a complete bio.
left image: Davide Monteleone photographed by Anastasia Taylor-Lind (©Anastasia Taylor-Lind).
Please, fill all the required fields, select the name of the workshop leave, if you wish so, a comment or request in the message box.