Workshop with Stefano De Luigi
A workshop dedicated to exploring long-term project development and expansion of photography to multi-media platforms.
The Expanded Image is an intensive 3-day workshop, which focuses on guiding students in developing a long-term photography project. Based on years of experience in developing several long form series, Stefano will discuss the evolving landscape of photographic practice. Through examples of his own work as well as the work of his contemporaries, Stefano will discuss the shift towards multi-media platforms, the intersection of editorial and personal work and the necessity of collaboration across different fields.
The students will be asked to bring a photographic project, whether new or old, to be critiqued, developed and expanded. If you have not yet created a project, please bring a series of images that you would like to turn into a cohesive body of work. During this 3 day workshop participants will be guided in discovering the full potential of a photographic project through editing, group critiques and discussions and inspirational materials.
The first day of this workshop is dedicated to sharing inspiration, viewing Stefano's work and processes, and discussing the changing form of photography. Stefano will present multi-media projects, new exhibition possibilities and editorial collaborations. He will guide students through this new landscape of fine art towards a sustainable and successful approach to photography. The second day will be spent reviewing students past work and critiquing and developing strategies for expanding its audience and outcome.
By the end of the workshop, students will have been guided in realizing the potential of creating a longterm project and the various forms in which it can be presented. The projects realized during the workshop will be presented to the NYC photo community at the Photo Workshop New York loft space, during our monthly projections. Each participant's project will also be showed on this website.
Dates: from October 17 to October 19, 2014
Place: Paris, France
Duration: 3 days
Participation fee:  €400 (30% discount for students that have participated in previous PWNY workshops!)
"Early Bird" participation fee: €380 for enrollment prior to September 16, 2014

+ Click here to read more information
– The workshop is open to everyone: students, advanced amateurs or professional photographers, with no age/sex/nationality restrictions. Enrollment is open until each class fills. The maximum number of participants accepted is 12.
– Once your application is accepted, an immediate payment is required to reserve your space in the workshop. All payment information will be sent directly through email.
– The fee of the workshop does not include travel or accommodation expenses. PWNY staff is available to help participants with travel and accommodation arrangements.
– Past students of PWNY: take advantage of the 30% discount that we offer for this unique workshop experience!
– There are scholarships available for photographers aged 26 or younger,If you are a photographer aged 26 or younger. The application deadline is September 12, 2014. More information about how to apply for the scholarship here.
– The workshop will be held in an art gallery in Paris.
– Once enrolled, students will be sent a bibliography and links for inspiration, in order to be prepared for class discussions
– Technical equipment (laptop) must be provided by each participant.
– The workshop will be held in English. Italian translation will be available.
– Photo Workshop New York's staff will be present during the workshop.
– The workshop releases a certificate of participation at its end.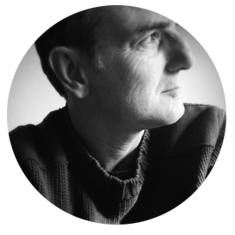 Stefano De Luigi was born in Italy and is currently based in Paris, France. He is a regular contributor to many international magazines including Stern, Paris Match, Le Monde Magazine, Time, and The New Yorker, although he is probably best known for his long term projects, which include Pornoland (winner of the Marco Bastianelli Prize in 2005) and Blanco: Visions of Blindness, published by Trolley books in 2010. In 2006 De Luigi started a project entitled Cinema Mundi, which focused on alternative cinema and was transformed into a short seven-minute film that was screened at the Locarno Film Festival in August 2007, De Luigi was won the World Press Photo three times in different categories, 1998, 2007, and 2009. He is also a recipient of the Moving Walls of Soros Foundation in 2009 and Days Japan International Photojournalism Award 2010. In 2014 his projects are  the protagonists of three important exhibitions:  iDyssey at Photomed in May 2014, Screamers at Noordelicht in August 2014 and  iDyssey at Mois de la Photo in October 2014.
› MORE INFORMATION ABOUT STEFANO
Subscribe to the workshop
Please, fill all the required fields, select the name of the workshop and upload a selection of 10 images  (JPEG format, 72 ppi, file under 1MB each) that best represent your photography.
>>
IF YOU DO NOT RECEIVE A REPLY FROM US IN 3 DAYS, PLEASE WRITE DIRECTLY TO: admission@photoworkshopnewyork.com