Workshop with Erica McDonald
An intimate workshop that through yoga, sharing and group discussion aims to help discover your own and personal voice in photography.
What happens when we let imagination guide our photography? Or when we access our subconscious and bring our dreams out onto the sidewalks of New York City? We will use writing exercises, visualization techniques, meditation and gentle yoga to open to the 'other story' that lives within each of us. Our emotions, memories, and inner visions will shape our photo projects and lead us to greater creative depths.
Portraiture, conceptual pieces, landscape, and projects focusing on the self are all suitable topics, as are exploratory works. The goal of the workshop is to find our voice and a story that is uniquely our own, and to learn to see and photograph mindfully. In this receptive state we will more easily overcome blocks and fears and release unhelpful habits. Along the way we will learn to quiet the inner critic, and become more grounded and present in our work.
The week will allow everyone to have fun and feel safe as we journey into the unfamiliar and unknown; play, experimentation and the willingness to fail will be encouraged. You will search New York City to find the right environment to support your concepts.
As we travel this course together, your daily process in the execution of your ideas will be the basis for our discussions. Along with time spent toward better understanding the single photograph (through light, moment, composition, content etc.) we will share conversations about working method, sequencing for nuanced storytelling, pairing images with text, presentation and options for distributing your work.
We will consider the effects of relying on chance, incorporating error, including the self in the photo, and more. This intensive but supportive environment will help foster exponential growth, bringing clarity and new directions in your art.
Open to all nationalities and ages, this workshop is suitable for students of all levels. A portfolio submission is required. Erica is a certified instructor of meditation and yoga and will be your guide; no prior experience is needed and our practice will be suitable for all levels.
Dates: from 22 to 28 June 2014
Place: Brooklyn, New York
Duration: 7 days
Participation fee:  €600
During this 7 days workshop participants will be guided in the conception and realization of a personal photo project. Please come to the first session with a collection of digital or printed images of your previous work and some ideas for a project you will pursue during the week. After that, mornings will be group sessions devoted to reviewing and critiquing the images you shot the day before. In the afternoons, you will head into the city to further develop your project. As the week progresses, we will also invite some notable New York photographers to present and discuss their work to the class. The projects realized during the workshop will be presented to the NYC photo community during a final slideshow party. Each participant's project will also be showed on this website.
+ Read more
– The workshop is open to everyone: students, advanced amateurs or professional photographers, with no age/sex/nationality restrictions, are welcome. Enrollment is open until each class fills. The maximum number of participants accepted is 12.
– The workshop is reserved to Spazio Labo'|Centro di fotografia's 2014 members. The 2014 membership fee of 15€ can be submitted at the time of registration to the workshop.
– Once your application is accepted, in order to confirm your participation to the workshop an advance payment is required. We will send all the information via e-mail.
– The fee of the workshop does not include travel or accommodation expenses. Spazio Labo' staff is available for helping participants with travel and accommodation arrangements. We offer the possibility of booking a single room inside the prestigious student dormitory of the Pratt Institute in Brooklyn. This year we are partnering with Pratt University to offer students a private dorm room with wi-fi, cleaning service, common kitchen and relax area access, for only $40.00 a night. This is a great option for students that are looking for privacy, security and a reasonably priced place to stay. It's conveniently located in the nice Clinton Hill area of Brooklyn, a short metro's distance from the workshop location. This is a great opportunity to build a community with the other workshop students that will be housed in the dorm, as well.
– If you are a photographer under 26 years old, you can win a scholarship to participate in this workshop, offered by Spazio Labo' | Centro di fotografia. The application deadline is April 11 2014. More information about how to apply for the scholarship here.
– The workshop is held in a loft in Brooklyn.
-LEICA Store Firenze is the technical sponsor of PWNY 2014: all the workshop participants will have the opportunity to try a LEICA M during the workshop days.
– A bibliography and filmography in order to get prepared for the workshop will be sent to the participant once they are enrolled.
– Technical equipment (camera, extra accessories and laptop) must be provided by each participant. Digital equipment is not obligatory, but it is recommended. Participants who wish to shoot with film will be able to do so, as long as they are aware of the times and costs necessary for the development of the film in laboratory, and of the costs relative to the scanning and digitalizing of negatives. The staff will help participants with a list of laboratories.
– The workshop will be held in English. Help with translation is available if needed.
– Spazio Labo' | Centro di fotografia's staff will be present during the workshop.
– The workshop releases a certificate of participation at its end.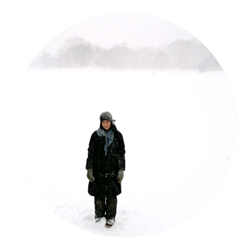 Erica McDonald is a photographer and educator who lives in New York City. She founded DEVELOP Photo to provide resources for the enrichment of the photojournalism, fine art and documentary photography community. Her photography is regularly commissioned for magazines nationally and internationally and has been exhibited worldwide.
Since 2010, she has taught an annual intensive documentary photography workshop through Spazio Labo' | Centro di fotografia. In 2011, she began teaching in Photojournalism at the Columbia University Graduate School of Journalism and joined the Advisory Committee for Rehabilitation Through Photography and the Editorial Committee at Photojournale. In 2012, McDonald co-curated the exhibit "Uncommon Intimacy: Quattro fotografe e la scuola newyorchese" at Spazio Labo' in Bologna, Italy featuring the work of Amy Stein, Juliana Beasley, Amy Touchette and Erica McDonald, and the Multimedia Night "Women in Multimedia" for Arte Fiera. Erica has served as a contributing editor to the book "Connections Across A Human Planet", a collection of photo documentary stories from around the world and has reviewed portfolios for PDN PhotoExpo / Palm Springs Photo Festival and ASMP NY. In 2013 McDonald became an Adjunct Assistant Professor at Columbia University Graduate School of Journalism and began working as a photo editor for a photobook on an African photojournalist, and became faculty at ICP – International Center of Photography in New York. As part of The Week of Photography in Holland, Erica served as guest curator for the first edition of On Photography: Online Film Festival. In Common: A Night Of Digital Storytelling, curated by McDonald and IC Visual Labs, was first presented in Bristol, UK and later as a Some Cities event at Mac Birmingham.
Commissions and publications include: Mother Jones, Rolling Stone, The New York Times, Financial Times Weekend Magazine, The Wall Street Journal, Popular Photography, Bloomberg Businessweek, Boston Magazine, Courrier International Magazine, YES! Magazine, RearViewMirror, BE Magazine, El Mundo, Gioia Magazine, Time LightBox, Lens, The Epoch Times, The Week, Runner's World Magazine, burn magazine and its printed collector's edition burn.01, The British Journal of Photography, The Collector's Guide to New Art, Nonesuch Records and Rhino Records.
McDonald's photographs have been exhibited in Australia, Romania, Italy, and France, and in New York by Photoville, PowerHouse, the Museum of the City of New York & South Street Seaport Museum, the Alice Austen House Museum, the Camera Club of New York, at Magnum photographer David Alan Harvey's burn gallery, at FotoWeek DC and at Gallery Carte Blanche in San Francisco, California. Her work has been included in projections and exhibits at the Athens Photo Festival, the Head On Photo Festival, Fovea, LOOK3, the Angkor Photo Festival, Bursa Photofest, Palm Springs Photo Festival, the FotoGrafia Festival in Rome and Slideluck. Awards and nominations include IPA/Lucies, PX3, The NY Photo Awards and the Magnum Cultural Foundation EPF, and a Lower East Side Printshop Residency.
MORE INFORMATION ABOUT ERICA HERE AND HERE

Subscribe to the workshop
Please, fill all the required fields, select the name of the workshop and upload a selection of 10 images (JPEG format, 72 ppi, file under 1MB each) that best represents your photography.
>>
IF YOU DO NOT RECEIVE A REPLY FROM US IN 3 DAYS, PLEASE WRITE DIRECTLY TO: admission@photoworkshopnewyork.com